Viral Lead Generation Implementation Guide
The Easiest Way To Generate More Leads and Sales
Viral Lead Generation and Marketing What Is It?
Hi, Eric Herman here. In the next twelve minutes (if you watch the video above) John Mulry walks you through an actual 3D Viral Lead Generation campaign and show you how powerful this strategy is and how quickly you can implement this in your business.
Setting Up Your Marketing Campaign
Setting up a viral list building and a viral lead generation campaign is probably one of the easiest strategies you can use to get results and especially if you're in B to C (Business-to-Consumer). It is one of the easiest things you could do to start getting results. I'm going to walk you through how an actual viral marketing campaign works. I'm going to walk you through some examples of software that you can use to actually set up this campaign, give you some recommendations on some of my favorite and then actually walk you through setting up a campaign with one of one of these software tools that I use myself, and walk you through step by step how you can actually do it.
So just let me map out the process of setting up a viral lead generation marketing campaign for you first. Then I'm going to walk you through actually setting it up, step by step. So essentially the components of a viral marketing campaign are:
setting up some sort of a giveaway, some sort of promotion or some sort of sweepstakes for the business.

a super targeted offer hyper-targeted to our market with a high perceived value.

social media engagement.

traffic to the promotion.

unique referral link tracking.

points based reward system.

automation and ease of use

.
I'll be walking through some offer examples in a second, but I just wanted to get that clear ahead of time that the offer has to be super, super targeted for this to work really well. And the good thing is that generally speaking, when it comes to the businesses that we're working with, we can put together a targeted offer very, very easily.
So, for example, if it's a personal trainer or a fitness business or business in the health niche or something like that, you may give away a month or two months or three months worth of personal training. Something with a very, very high perceived value and very targeted offer. You know, anybody that enters a competition or enters a giveaway for that, they're obviously interested in their health and their fitness and interested in getting results from their health and fitness. So that's a very targeted offer. That's just a quick example. Once we have our targeted offer, we set up our giveaway and we do that by creating two pages. We have a giveaway landing page and then we have a giveaway share page. Then we set up a simple ad campaign and I'll be walking you through this as well.
Next we drive traffic to this landing page, which is our competition giveaway page. Let's just call this our giveaway page. Generally speaking, if the business already has an existing database we can trigger and we can use that existing database as a catalyst. And I call it Catalyst Advertising to really kind of get the competition going. But if we don't, we can set up a simple advertising campaign just to get it going as well. So say for example, this is our giveaway page and when someone opts in, they enter the competition to the giveaway and do that by entering their name and their email address or their email address or some other variables that we want to collect and end then they're brought to a thank you page. So on this thank you page is where the magic happens.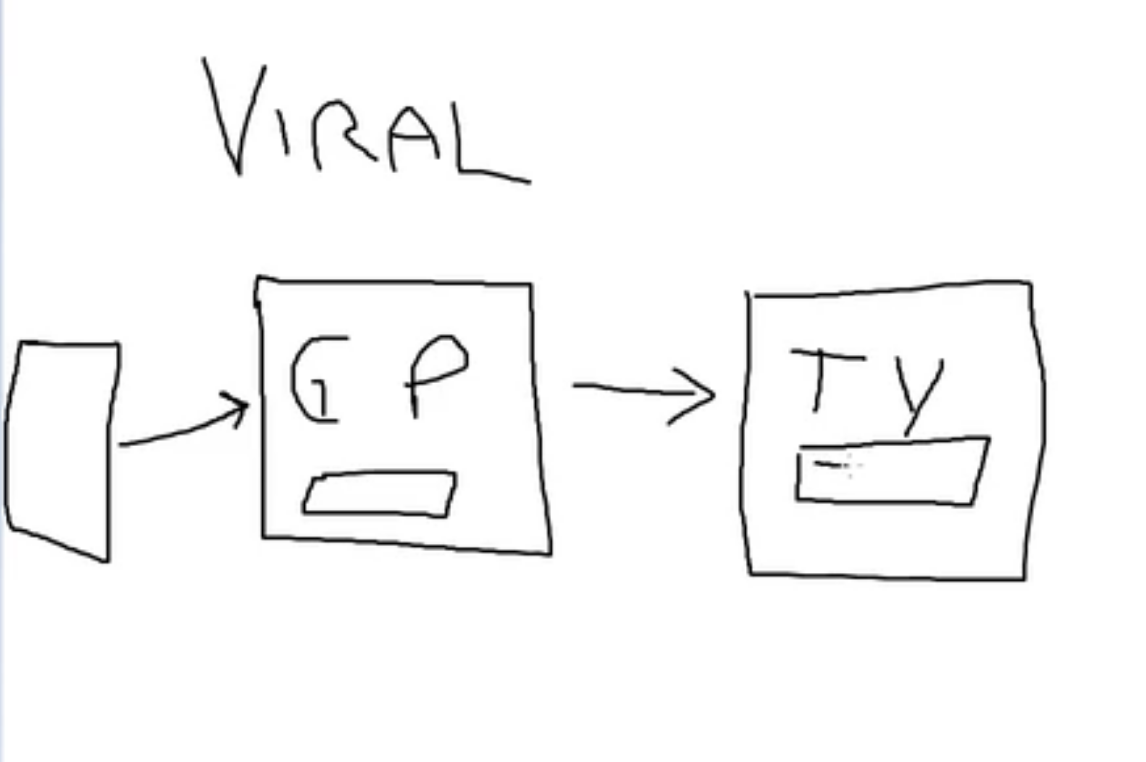 Okay. So on this thank you page we have a number of different options. Generally we would have a headline, it would say "thanks for entering the competition", you now have one point to get more points, simply do the following and it will have links where they can share to competition with others. Now say for example, Mary comes along, Mary sees our ad or she's on the business' existing database and she visits the landing page. She enters the competition. So she goes over here and then she shares the competition on Facebook. She shares the competition on Twitter, on Google plus on Pinterest, on Instagram or whatever. So she's sharing the competition and Mary's getting a unique link. So Mary sharing her unique link. So if it's, so if Mary shares a hair to say Facebook and you know, five of Mary's friends see the competition and they go here and then they enter the competition through Mary's link. Well then Mary's going to get a number of points.
Viral Lead Generation Point Rewards
So we might designate 10 points for every lead that Mary's sends. So now if Mary gets five leads from Facebook, now Mary has 50 points in the competition. So we're using this gamification to really kind of increase and really drive home that people are going to want to share the competition. The more times they share it, the more leads that we're going to be getting for the business, plus the more points they're going to be getting. And at the end of the competition, the person with the most points wins. And the good thing is that the software we use manages the whole process. So we don't have to be worrying about who has the most points it's all automated and it's all done for us.
And the good thing about this is this isn't just a one of those boring like and share competitions because generally speaking you might get lots of likes and you might get lots of shares but you don't get any leads. So they're really no good to be using. You know, bottom line, we want to be generating leads for the business. We want to be getting the results. And the best way to do this to actually to build a list, build a subscriber list so they can start communicating with these people on an ongoing basis and start making offers to them. So say for example, Mary shares it on Facebook and five people from Facebook visit this page enter the competition so then those five people now have their own unique links and then they're going to be sharing it and the people that they share to then they're going to be visiting and then they're going to opt in and then they're going to share it and what happens is …it just becomes this big viral loop that just happens over and over and over again…and builds your viral lead generation.
More and more people visit this page to enter the competition. Each is going to share their links and as more people are visit the page, enter the competition and share their links more and more people do the same thing and that's how we build up viral marketing very, very easily. Essentially we're starting with one lead and that one lead, could turn into three. Here's my crappy drawing of people, sorry about that. And then those three can turn into many, many more leads and it all starts from the one simple campaign that we're going to set up. It's so easy to do.
I showcased some of the results that we've gotten from this. Just bear with me one second. I'll pull them up again for you just so you can see.
Viral Lead Generation Case Study 1: 652 Leads In 17 Days
So here's a campaign we did for a client where we generated 652 leads in 17 days. Now bear in mind, the majority of businesses may not have a big database or they may not have a lot of subscribers. So to get 652 leads in just over two weeks is quite amazing. But on top of that, you know, we also sent 4,328 visitors to their website. So if we had Facebook pixel installed on their website and we had tracking pixels installed and conversion pixels installed on their website, we'd be able to retarget those leads as well. With retargeting those website visitors can easily turn 652 leads into a hell of a lot more leads in a very short space of time.
So we can utilize the viral marketing campaigns to not only get leads on the front end but also turn those visitors into ongoing lead generation. We can turn those visitors into leads in the long term as well by using some simple retargeting campaigns. We're doing retargeting via something like Facebook or Perfect Audience or something like that.
Marketing Case Study 2: 573 Leads in 24 Days
So the next campaign I want to show you is a campaign where we got 573 leads in 24 days. And we had visitors of 2,464 visitors as well. So the number of visitors and the number of leads well, the ratio between the two will really depend on the offer. So some of these offers worked extremely, extremely well, some worked okay. But the bottom line is you're going to be getting leads for your business very, very easily and doing it in a way that's very, very cost effective for both the business. And oftentimes the majority of these leads are actually free and it works extremely, extremely well.
Retargeting Case Study 3: 3156 Leads in 22 Days
Here's another campaign that was a whopper that in 22 days we got over 3,100 leads. So it's actually 3,156 leads. And we had 16,500 visitors to the site. So essentially when we had the retargeting pixel installed, we set up ongoing retargeting campaigns to all 16,500 visitors with low barrier to entry offers to monetize those visitors as well as being able to monetize those leads
So this viral marketing campaign is one of the easiest strategies you can roll out and I highly, highly recommended you do it. I like I mentioned it, it all stems from targeted offers and then using viral marketing. So when it comes to targeted offers, we go with high value offers. Say for example if we're working with a dentist we may do a very high end procedure and it might be something like, you know Invisalign braces or something like that. It's going to have a high monetary value. So there's going to be a lot of people interested in that and we just have to work out what the business is willing offer as a front end offer. Obviously they're going to have to eat some costs. It's going to be a lost leader for them, but they more then make it up on the backend when we actually showcase the results we can get in terms of our lead generation. So whatever type of business, whether it's a dentist or a doctor or surgeon or plastic surgeons or aesthetics or health and fitness or real estate or automotive or car sales, whichever niche you're in, focus on a targeted offer related to the core product or service.
So say for example, if you're in the health niche, there's probably no point in giving away 3,000 cheeseburgers or something like that because it's not targeted to the market. So make sure the initial offer is highly, highly targeted and it will work really, really well.
Landing Page
So here's an example of how it works as well. So this is an example of a campaign we set up for a personal training client. So we were giving away a free month of personal training or 28 day plan and a month's supply of fresh, delicious juice that they could get for the month. And this offer was worth over $500. So it was very, very targeted to people who are interested in health and fitness, interested in healthy living and interested in improving their health and fitness and their vitality. So we would drive traffic to this page.
So this was our landing page and the headline is very, very simple. "Win A Free Month of Personal Training and the Me2U Fitness 28 Day Juice and Healthy Living Kickstart Plan Worth Over $500" enter your details below to be get a chance of winning. So we were just asking for email address on this occasion. But in your primary email, yes, I want to enter this giveaway. Once they click that they're brought to the thank you page.
Thank You Page
So on this thank you page there's a simple headline, it says, "Thanks For Entering" you can increase your chances of winning this giveaway by sharing this competition with friends and family. Use the links to share on social media and copy your unique link to gain more points and more chances of winning. If you share on social media, you get five points for each share. If someone clicks the link, you share, you get 10 points. If someone enters the competition through your link, you get 25 points. The more times you share and the more people that sign up under your link, the more chances you have of winning.
And also we're actually getting them to interact with us via email as well immediately by just including a little "PS" that says "I've sent you an email with my guide to "7 Most Dangerous Trends Facing Your Health Today and the 3 Simple Steps You Could Take To Overcome Them". So we want them going to the inbox as soon as possible because when they click into that guide, in this scenario we are offering a free consultation at the end.What Christina was doing in this scenario was everybody that entered the competition would get that consultation and she was closing some of those people that entered the competition onto ongoing plans or onto her 28 day plan or six week program, regardless of whether they actually won to competition or not.
Would You Like My Help Launching A Viral Campaign?
As you can see, I've got this whole viral lead gen campaign thing down. In fact, my process has become "scientific". And while I can't guarantee you'll get the same results, I can guarantee, with my assistance, you'll see far better and faster results than most anything else you've likely tried to build your business before.
I have two ways I can help you:
Option 1: Done-With-You
Option 2: Done-For-You
If you'd like to learn more about what my "Done-With-You" or "Done-For-You" options look like, I invite you to jump on a one-on-one call with my business partner, Eric Herman where he'll walk you through our process to see if we're a good fit for one another. If we are, we'll all get together on a screen share session to map everything out for you before we move forward. 
How does that sound?
This is a "risk free" opportunity for us to map out what a viral lead generation campaign can do for your business.
Spots Are Limited. . .Book Your Risk Free, No Obligation Call Today . . .
Don't delay, enter your name and email below to get started.
Schedule Your Call
Please enter your contact information below to schedule an introductory call.
Hello, I look forward to discussing how your business can benefit from John's Viral Lead Gen Campaigns and the two options we've made available if we seem to be a good fit for one another.